I am so lucky today to nab this incredible writer for WWW! Please welcome my dear friend Beth Teliho, of
Writer B Is Me
. I love the diversity on Beth's blog---some posts are so funny that you might need to wear a Poise pad (or be near a bathroom) because you'll be laughing so hard. Yes, she is THAT funny! Other posts she has written are so poignant they've moved me to tears. Sprinkle in a little poetry and some vegan recipes, and you've got one very special blog site written by an up and coming blog star. Please welcome this lovely lady to MM today and shower her with LOTS of a comment love!
That Time I Showed A Chiropractor My Hoo-Ha.
I sat on the table awaiting my new Chiropractor. She'd come highly recommended, and I desperately hoped she'd be able to ease the lower back pain that seemed to elude all the other doctors. My eyes flitted over the sophisticated equipment in the room: scanners, and X-Ray machines, wands, and computer screens, to name a few.

This was far more than a typical back-crack visit.

She came in the room with a friendly smile. As usual, I was a little nervous meeting someone new, and when I'm nervous, I don't process things well.

We chatted about this 'n that and I told her about my back issues. To my delight, the banter was flawless. Hell, I even made her laugh. AND she seemed confident I'd be pain free in just a handful of visits. Score!

"I'm going to do a scan of your spine," she told me. "I'll need you to put on this cover-up with the opening in the back. You can leave your bra on."

That's what she said. What I heard was, "Take off everything but your bra."

She left. I stripped nude except for my bra - not once thinking why she'd need to see my vag for a spine scan - and rustled into the paper shirt making sure to leave the opening in the back like she'd asked.

Yeah. You read that right. Shirt. It only covered my top half. And it still didn't occur to me that this was unusual.

I nervously tugged at the top, making sure it covered my lady bizness. A few minutes later, she glided back in the room. When her gaze lifted to my naked thighs, she did one of these: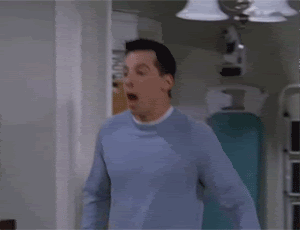 "I…I…you didn't have to take your pants off," she stammered.

Thick, toxic dread draped over my body as I realized my mistake. All I could do was stare at her with heat burning in my face.
"Oh,
I thought you said take off everything but your bra," I finally mustered, adding a high-pitched-crazy-person cackle to ensure she knew I was deranged.
I walk-of-shamed out of the clinic a different person that day. One who no longer trusted herself to leave the house or drive a motorized vehicle. For the record, I did continue to see her, and she did get rid of my back pain. But the humiliation? Still there….
What's the worst misunderstanding you've ever had? Do you manage to embarrass yourself often? Ever end up nude when you weren't supposed to be?
BIO:


Beth Teliho is a wife, mother of two lunatic boys, writer, and artist living in wouldntyouliketoknow, Texas. Writer B is Me is where she unleashes her candid, crazy, sometimes filthy, a little naughty, always-leaves-you-with-a-smile stories. You've been warned.